Outside an unmarked building on the banks of a Taipei river, 14 flags usually fly, one for each of Taiwan's allies. But last week, the flag of Honduras was removed from the site, which houses diplomatic outposts. Now, just 13 remain.
The standard came down after Xiomara Castro, the president of Honduras, announced on Twitter she was making good on promises made during her campaign to cut diplomatic ties with Taiwan after 82 years and ally with China.
The country's foreign minister said Honduras was struggling financially and Taiwan hadn't answered a request to renegotiate $600m in debt or increase financial aid. Taiwan accused Honduras of asking for more than $2bn and urged it not to "quench your thirst with poison" by siding with China.
Nine countries have switched allegiance to China since Tsai Ing-wen became president in 2016 and Beijing increased its efforts to diplomatically isolate Taiwan. It leaves just 13 formal diplomatic allies. The weight on their shoulders is heavy, as is the price they can pay for not siding with China, which doesn't allow its allies to also recognise Taiwan.
Taiwan's remaining allies are Belize, Guatemala, Haiti, Paraguay, Saint Kitts and Nevis, Saint Lucia, and Saint Vincent and the Grenadines in the Americas. In the Pacific, it is still recognised by the Marshall Islands, Nauru, Palau and Tuvalu. Eswatini is its only African ally, and Vatican City the only one in Europe.
The allies, mostly tiny or developing nations, are usually spoken about rather than to, until they decide to switch. Most attention is given to Taiwan's "like-minded partners" – powerful countries such as the US that offer support without recognition. In exclusive interviews, the Guardian met four of the Taipei-based ambassadors. Others declined, didn't respond to requests or were unable to meet before deadline. Honduras' office cancelled an agreed interview after the severance was announced.
'Respect for sovereignty'
The countries each have their individual histories, reasons and motivations for deciding to ally with Taiwan. Reasons range from financial benefit to deeply held principles about national integrity and solidarity between small countries.
"We've hitched our sovereignty to Taiwan. We're saying we're standing by you," says the St Vincent and the Grenadines ambassador, Andrea Clare Bowman. "It's principle, it's the respect for the sovereignty of a country that has decided its path."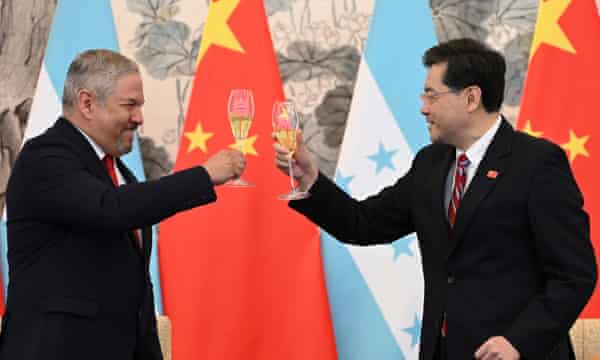 The Caribbean nation, home to about 104,000 people, opened its embassy in Taipei in 2019, the same year it became the smallest country ever to sit on the United Nations security council, alongside China. Last August, its prime minister, Ralph Gonsalves, visited Taiwan in the midst of China's live-fire military drills, retaliating against US House speaker Nancy Pelosi's visit.
"All of this happened at times when you'd think this little country shouldn't ruffle feathers," Bowman says.
Tuvalu's decision in 1979 to side with Taiwan was made largely out of ideology and faith: the deeply Christian country was wary of the communists, says Tuvalu's ambassador, Bikenibau Paeniu. He served as prime minister of Tuvalu three times, and says his posting to Taiwan demonstrates the significance of the relationship.
But Paeniu is also candid about the financial aspect of the diplomatic alliance today. He notes the Taiwan government provides generous grants – not loans that must be repaid, as China offers.
Paeniu doesn't think anything would make Tuvalu switch sides from its "true friend". "I think the parliament is 100% support for Taiwan," he says. But when asked whether Taiwan reducing or withdrawing its grants would change opinions, Paeniu replies: "It might."
Aid for 'friendly nations'
St Lucia has formed ties with Taiwan twice, most recently returning to Taiwan in 2007 after it increased its aid and assistance.
Its ambassador, Dr Robert Kennedy Lewis, says his government would say "its foreign policy is not about the highest bidder" but adds that Taiwan is now its biggest donor of grant aid.
In 2020 Taiwan provided US$502m in aid to "diplomatic allies and friendly nations" – up from $302m in 2018 – and it regularly funds specific development projects for Latin American and African allies. All of its allies have access to comprehensive higher education scholarships for hundreds of their students each year. Many have access to health assistance and in-country treatment for nearby Pacific allies.
All of the ambassadors who spoke to the Guardian singled out education scholarships – particularly those in tech, engineering and medicine – as providing longterm benefits to their home countries. When nations cut ties, these students are often the first to suffer. At the end of this current semester, 170 Honduran students in Taiwan will lose their scholarships, and likely have to return home with unfinished degrees.
Pressure from China
While Taiwan offers much to keep its allies, it's clear that China can offer far more in terms of trade, tourism and economic opportunities.
When the Dominican Republic switched in 2018, it cited "history and [the] socioeconomic reality". In 2007 Costa Rica's then-president, Oscar Arias, also cited economic reasons for his country's switch. Taiwan's foreign minister at the time, James Huang, said China had offered an "astronomical figure", the BBC reported.
Solomon Islands' decision to cut ties with Taiwan in 2019 was domestically controversial, but the prime minister, Manasseh Sogavare, said it would be "simply irresponsible to isolate a global, willing player to assist with developing and least developing countries".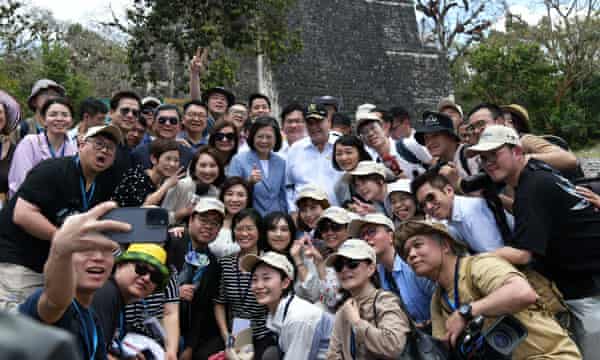 China's inducements don't always work. Bowman confirms St Vincent and the Grenadines has had "approaches" from Beijing but won't detail them, and says the answer is always no.
In 2019, Chinese offers to help build artificial islands for Tuvalu were rejected by the Pacific Island's foreign minister, who cited concerns over debt traps and Chinese military bases, as well as its relationship with Taiwan.
Palau's ambassador, David Adams Orrukum, learned his country had chosen to recognise Taipei instead of Beijing when Chinese officials stormed into his Washington DC office at Palau's then-only embassy.
"They wanted me to wake up the secretary of state," Orrukum recalls about that day in 1999. He convinced them to let the minister sleep, but it was Orrukum's first sign of the intense pressure to come from China on his tiny island state.
In 2017 China essentially blocked its citizens from visiting, with a ban on packaged tours to Palau. Tourism is more than 40% of Palau's GDP.
"We really felt that," Orrukum says. "But I like to see Palau as a resilient country."
He says the chances of a switch are "slim", but notes that Taiwan's health assistance, which includes medevacs for serious cases, is "crucial", and there will always be a debate over "money versus security".
For decades there have also been accusations or instances of non-transparent or even illegal financial inducements from both China and Taiwan, including millions of dollars in bribes and secret slush funds to heads of state and other politicians.
"On the secret [tactics], both governments may not be that different," says Dr Ming-sung Kuo, a legal academic at the UK's University of Warwick. "I don't think the Taiwan government is completely staying away from that practice."
Another loss looms
The transactional nature of its alliances is debated within Taiwan, but allies say they give international legitimacy to its statehood, and give Taipei a voice on the world stage.
That voice could become fainter as soon as next month, when Taiwan faces the loss of another friendly country. Paraguay's opposition party has said it will switch to Beijing if it wins the presidential election on 30 April, citing trade opportunities. Another loss will make strong ammunition for Taiwan's opposition KMT party to campaign on for its election in January. The KMT is in favour of friendlier ties with China, and suggests the drain may slow if it is in power. Sceptical analysts say the situation is much more hostile now than when the KMT last ruled.
But for now, most of Taiwan's staunch allies are standing firm.
Bowman says it's a matter of "integrity". "[Taiwan] is still fighting for legitimacy as a country. It needs countries to speak for it in the international space."
Lewis says he would "love [St Lucia] to be friends with the 1.4 billion people in China", but it is Beijing that makes countries choose. He questions why small countries like his are left to defend Taiwan, but says the need to stand up for democracy remains.
"Maybe history will vindicate them, and show they were right to stand. Democracy is under threat."
Source : The Guardian